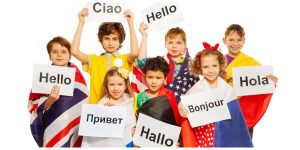 Kids start the journey to Spanish or English speaking fluency using an immersion approach with actions and creative thinking.
Fluent Kids
Enhance their intellectual growth

Enrich their understanding of other cultures

Excel in AP Spanish exams and college entrance foreign

language requirements.

Increase their job opportunities and advance in many careers where language skills are an asset.

Have a competitive edge worldwide for a lifetime.
Fluent Kids Will Be Able To:
Start speaking Spanish in complete sentences on the very first day.

Create mini skits and role play situations in Spanish with interesting storylines and characters by the end of 1

st

week or month depending on the program enrolled.

Think creatively to produce meaningful show and tells to parents every week or month to measure progress.

Speak fluent Spanish or English by the end of the 9 month after school program using a vocabulary of at least 200 new words. Summer Camp is at least 50 new words in 5 days. The 1st level of fluency consists of at least 200 new words.
Fluent Kids in Spanish Programs
Fluent Kids After School Program Year Round

Fluent Kids Summer Camp

Fluent Kids in Your Home or Community

Fluent Kids in English

Fluent Kids in Schools

Fluent Kids in Day Care and Child Learning Centers